We posted a couple days ago that Lionsgate had officially announced a nail polish line called "Colours from the Capitol" in partnership with China Glaze to tie-in with The Hunger Games movie release.
Now we have a look at the 12 official color samples for the line. What do you think!?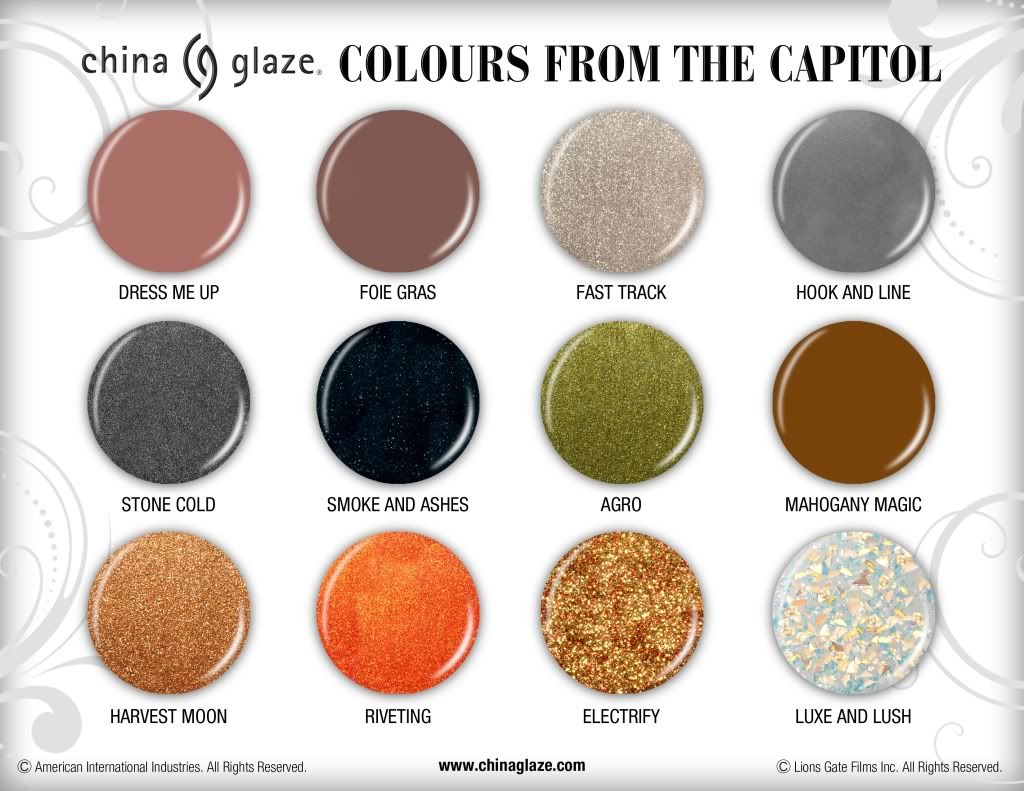 Here's the information Lionsgate previously provided on the nail polish line:
In keeping with the powerful themes and messages of the story, the collection of nail polish will be inspired exclusively by one of the book's distinct settings- the Capitol of the nation of Panem. Awash in lavish fashion, food, and entertainment, Capitol citizens enjoy extreme cosmetics and body modifications, bold wigs, and outlandish costumes.
The nail polish will be available at specialty beauty retailers beginning on March 1, 2012.
Update: While this line is called "Colours from the Capitol," we noticed a very clear connection between some of the names and the Districts, such as Agro and District 11. But one of our brilliant readers, Ariel, noticed that, in fact, every name lines up pretty nicely to a District! Check it out:
Luxe and Lush – District 1 (Luxury)
Stone Cold – District 2 (Masonry)
Riveting – District 3 (Technology)
Hook and Line – District 4 (Fishing)
Electrify – District 5 (Power)
Fast Track – District 6 (Transportation)
Mahogany Magic – District 7 (Lumber)
Dress Me Up – District 8 (Textiles)
Harvest Moon – District 9 (Grain)
Foie Gras – District 10 (Livestock)
Agro – District 11 (Agriculture)
Smoke and Ashes – District 12 (Mining)