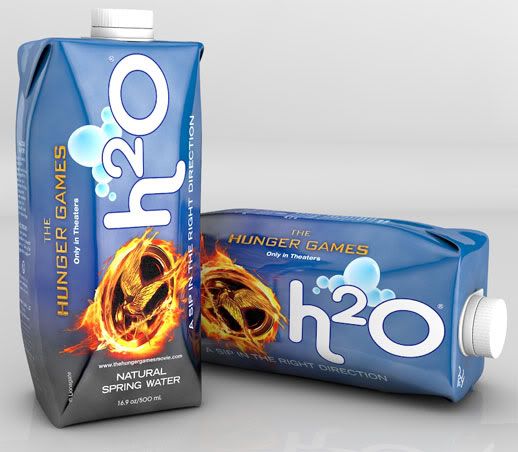 h2O natural spring water announced today that they've partnered with The Hunger Games movie.
Refreshing Ideas, LLC, producers of the earth-friendly "h2O" natural spring water in an award-winning, renewable, aseptic package, have partnered with The Hunger Games, to be the official water of what will undoubtedly be one of the blockbuster movies for 2012.
You can pre-order the h2O Hunger Games water on Amazon, and go here to see a list of stores that carry the water (click on the "find us" tab). No release date is given, but Amazon allows you to sign up to be notified when the product becomes available. Also, be sure to "like" h2O on Facebook – they say they plan to host special giveaways and offers for Hunger Games fans.
What do you think? Interested in some Hunger Games water? Water certainly has a clear connection to movie, which is more than we can say for nail polish
And the packaging is pretty cool!
Via My Hunger Games