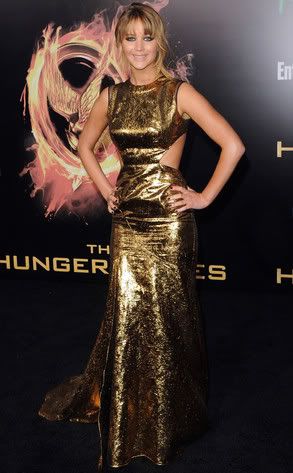 While the cast of The Hunger Games were on location filming, there were all sorts of stories coming from the set about various injuries that cast endured.  One such story going around was that Jennifer Lawrence injured her spleen while filming The Hunger Games.  Well, Sugar Scape decided to ask the actress if she had indeed been injured in that way, and if so what happened.  Jennifer explained that she had been training and was running towards a wall, but didn't quite make it over.
 …So I ran at the wall, jumped, and then hit the wall as hard as I possibly could have….I obviously got winded, was rolling on the ground, and there were all these stunt guys around, so I'm trying to be like [thumbs up] and trying to act like I'm totally cool and not hurt at all. But obviously it was unbelievably sore, and I had this trainer who is the biggest hypochondriac ever…so then he made me go to the hospital to get an MRI scan..[but] it turns out: totally fine, no damaged spleen.
We are happy to hear that Jennifer was okay.  In such a physically demanding role as Katniss Everdeen, we are sure it's not uncommon for injuries to occur.  Glad it was nothing more than having the wind knocked out of her and being a little sore.