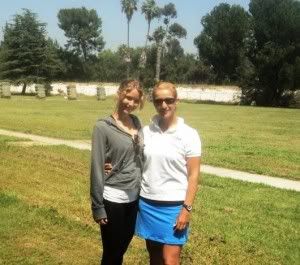 The woman who taught Jennifer Lawrence how to shoot a bow and arrow on the set of The Hunger Games is currently participating in the Olympics in London. Khatuna Lorig and her American teammates fell short of a medal in the team competition over the weekend, but she's currently going after a women's individual medal, and it looks like her next match is on Wednesday.
With all of the attention on the Olympics, a number of interviews with Khatuna about her involvement with The Hunger Games have popped up.
In this video interview with The Wall Street Journal, Khatuna talks about how she started training Jennifer and if Jennifer could really shoot an apple out of a pig's mouth ("She would need more practice, of course. Yes, why not? She could be [good enough].").

In this interview with Easton Foundations (source of the image above), Khatuna talks about how great Jennifer was to work with, saying she was "amazingly talented for just being 20 years old."
Q: What kind of training did you do to get Lawrence ready for her role in the Hunger Games?

Khatuna Lorig: We did 10 lessons total. They each lasted for one hour a day. I started by teaching her the fundamentals and proper form. Early on in the training, we focused on not getting hurt and not moving the body when shooting. Not learning the proper techniques right from the start would only make things harder down the road, but after a few lessons, Jennifer was shooting about 100 arrows a day with an Olympic-style recurve. Her technique was great.

Q: How did Lawrence respond to the training?

Khatuna Lorig: I think she was expecting it to be easy. There is so much more to archery than meets the eye. It is really complicated and takes a lot of work. Also, training someone for a movie is different than training someone for competition. You have a small amount of time to make it look real. It has to be safe from the beginning, and all the details and small things of professional form need to be covered. It has to look good enough for the camera. Jennifer did great. She never complained once.
And in a more recent interview with Elle Girl, Khatuna describes some of the fun behind-the-scenes moments with Jennifer.
EG: What was it like working with Jennifer Lawrence?
KL: Jennifer was a very fast learner and a good listener too.  She has a fun personality and was easy to work with every day.  She was good at acting like she had been shooting for years.

EG: Were you proud when you saw her in the movie? 
KL: Yes, and it was weird too because I kept thinking, "Hey! I gave her that technique."

EG: What was a funny moment you guys had when working together in training?
KL: I'd tell her that when I saw her in the movie I would tell everyone "that's my student!" and she would say to me that when she saw me competing in the Olympics she would be the one telling everyone "that's my teacher!" so we had a really fun time working together and we would laugh.
We wish Khatuna the best of luck in her Olympic competition this week!