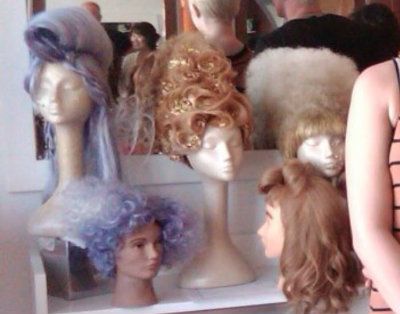 It looks like The Hunger Games hair stylist Linda Flowers will be back for Catching Fire.
Hunger-Games.net has a report from a fan who says her friend (yes, this is a bit like a game of telephone…) was at the Doves Salon in Santa Monica, CA when she learned that the stylist there was doing some wigs for Catching Fire. She said there were a variety of colorful wigs in the salon that the stylist said were for the movie, including those in the picture above. [UPDATE 9/13: We learned from Lionsgate today that the wigs in this image are not from Catching Fire and this salon is not making any wigs for the film. Sorry for the confusion! Seems they just happen to have some colorful wigs in the salon and were working with Linda separately.]
Also, the Doves Salon Facebook page posted a picture on August 19 where the same wigs can be seen, as well as the below picture on August 18 with Linda Flowers, saying "The past 2 days at the salon have been very exciting! We have been working with head hair stylist, Linda Flowers for a major motion picture. We are so honored to have had this team of hair artists in the salon!" (notice the "district hair" and clock t-shirts…coincidence!?)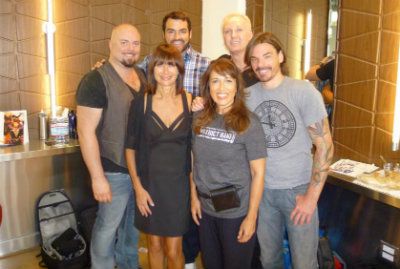 We did a bit more digging and found what appears to be Linda Flowers Twitter account – while it's not verified, the pictures and tweets lead us to believe it's legitimate. And for the last couple months, she's been tweeting like crazy about working on Catching Fire.
During a conversation about Capitol hairstyles, she tweeted "fyi hearing they want to adjust the look a bit cant wait to find out all new info FUN" – July 11
"Just read catching fire. Great script" – July 15
"Prepping catching fire. Lots of surprises" – July 25
"I am doing Jennifer's hair for catching fire can't wait" – July 29
"meet with Elizabeth Banks / Effie trinkett today. Effie is back yay .kicking it up a notch. if thats possible" – August 1
"looking forward to doing the hair for capital party on catching fire" – August 8
"i believe we go to NC somewhere for a few days .i think for Hob work" – August 9
When talking about Finnick, she tweeted "agreed at the party he should be well groomed and messy during the games, especially everyone comes out of the water" – August 9
"met with francis lawrence director for Catching Fire today" – August 15
"in atlanta for 3 months. new apartment 26 floor beautiful view" – August 28
"yikes taking blondes brown , brunettes blonde. brunetts copper highlights . what is wrong with el natural.." – August 31
"sam / finnick what a sweet heart" – September 2
Can't wait to see all the new looks in Catching Fire! Even if they are adjusting some of the looks a bit, it's great to know the same hair stylist will be there to maintain overall consistency. And those wigs look pretty cool!