The Philippine Daily Inquirer has a great new interview with Jennifer Lawrence from the Toronto International Film Festival.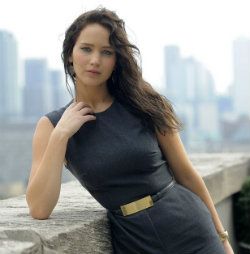 On Gary Ross and Francis Lawrence
Jennifer revealed she was "devastated" when "The Hunger Games" writer-director Gary Ross decided not to return for the second film, which Francis Lawrence is directing. "When I first heard the news, I was devastated because I adore Gary," said Jennifer. "I didn't see it coming. I couldn't understand. I called him and he basically said, 'I don't have time to give 100 percent to this movie.' My devastation was replaced with respect for him for stepping out when he felt that he couldn't give his all. So, as much as I miss him, I completely respect him for making that decision."

Of the new director, she said: "Francis is absolutely amazing. The actors feel very free; he's not controlling at all. He knows everything inside and out so you feel supported. I'm really happy."
On changing her hair color to play Katniss
"I think dark gets more like, 'Whoa!' but that's probably just because I've always been blonde," she explained people's reaction to her hair color changes. "No matter how many times I dye my hair black for the movies, my family still can't get used to it. Every time they see me, they're like 'Whoa!' I still have trouble getting used to it."

With a grin, she continued: "If I wake up in the middle of the night to pee and I see myself in the mirror, I'm always scared at first."
You can read the rest of the interview – including discussion on adjusting to life as a celebrity and working on Silver Linings Playbook – at the Philippine Daily Inquirer.