We are excited to be the second stop on The Victory Tour promoting the new book, The Panem Companion – An Unofficial Guide to Suzanne Collins' Hunger Games, From Mellark Bakery to Mockingjays.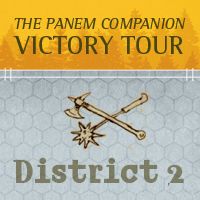 Check out an exclusive excerpt from the companion below, courtesy of Smart Pop Books, and let us know what you think in the comments. We will be selecting one reader at random to win a copy of the book!
"In the Seventy-Fourth Hunger Games, Katniss describes Cato, a Career from District 2, as 'monstrous.' She details how fellow District 2 Career Clove taunts Katniss with details about Rue's death as she prepares to kill her, and the circumstances of Rue's death paint District 1 Career Marvel as a bad guy for killing her. In Catching Fire, we learn that Enobaria, a District 2 victor from some years past, won her Games by biting out an opponent's throat and has since had her teeth sharpened into symbolic trophies and very real weapons. The characterization of the Careers in both novels is limited, but it clearly casts them as smaller-scale villains, often without giving them an opportunity for redemption before their deaths."
Panem Names glossary excerpt:
Enobaria, District 2 Tribute in the Quarter Quell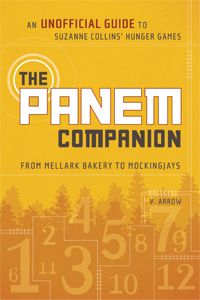 "Enobaria is most likely a female form of Enobarbus, the name of a character in Shakespeare's Antony and Cleopatra. In the play, Enobarbus is considered a friend so loyal and so trusted by Antony that he is allowed to critique the government. In the context of the Hunger Games, this may just reflect Enobaria's origins in District 2, which is considered the most loyal of the districts. But in the play, Enobarbus frequently serves as commentator on the action. He moves about freely, seeing much that occurs among the heads of state, and uses that information to form his own conclusions, which he shares with other characters as well as the audience. Enobaria's filed teeth certainly serve as a comment on the Capitol's bloodlust and infatuation with appearance.
"Enobaria is one of the delicious characters in the Hunger Games whose background must be almost entirely extrapolated from the morsel of her name and few details that Katniss discloses, given that she does not play a major role in our first-person narrator's life. Enobaria is described as a popular fixture of the Capitol and Hunger Games broadcasts and, if Enobarbus and his freedom to collect information and use it at will was, indeed, the inspiration for her name, she may well play the same role in the Capitol that Finnick does: a coerced slave who learned to trade personal favors for secrets."
The contest will run until this Friday, November 30th at 10:00 PM ET and is open to readers in the US and Canada. Make sure you leave a comment below to be entered!