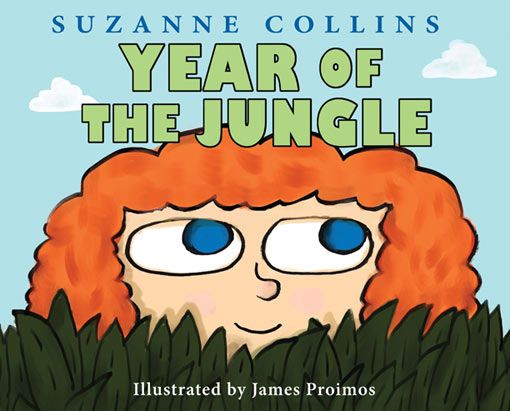 Scholastic announced today that Suzanne Collins has a picture book in the works! It is titled Year of the Jungle and is due out next September.
Year of the Jungle ($17.99, ISBN: 978-0-545-42516-2), to be published on September 10, 2013, is an autobiographical picture book for ages 4 and up, based on the year Suzanne Collins's father served in Viet Nam. The book is illustrated by James Proimos, an acclaimed picture book author-artist and television writer/animator. Longtime friends, Collins credits Proimos for initially suggesting she write books for children while they were working in children's television together.

In Year of the Jungle, when young Suzy's father leaves for Viet Nam, she struggles to deal with his absence. What is the jungle like? Will her father be safe? When will he return? The months slip by, marked by the passing of the familiar holidays and the postcards that her father sends. With each one, he feels more and more distant, and when he returns, Suzy must learn that even though war has changed him, he still loves her just the same. …

About the origins of Year of the Jungle, Collins explains: "For several years I had this little wicker basket next to my writing chair with the postcards my dad had sent me from Viet Nam and photos of that year. But I could never quite find a way into the story. It has elements that can be scary for the audience and it would be easy for the art to reinforce those. It could be really beautiful art but still be off-putting to a kid, which would defeat the point of doing the book. Then one day I was having lunch with Jim and telling him about the idea and he said, 'That sounds fantastic.' I looked at him and I had this flash of the story through his eyes, with his art. It was like being handed a key to a locked door. So, I just blurted out, 'Do you want to do it?' Fortunately he said yes. That afternoon, on the train ride home, the book started unfolding in my head. There's a natural humor and sense of fun to his drawing style that makes the story approachable. As the emotional life of the main character evolves into darker places, the pictures beautifully keep pace with it, but they never lose that Proimos quality. His art made telling the story possible."
Scholastic is also reissuing The Underland Chronicles series with new covers next summer and Catching Fire will be released in paperback on June 4, 2013.
Via Market Watch and EW
We are so excited for this, Suzanne tells stories so well!