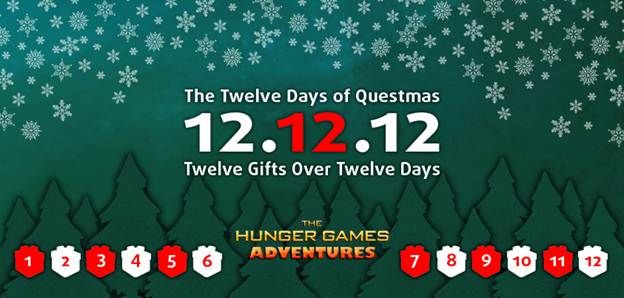 The Hob and 11 other fansites have partnered with Lionsgate to celebrate the 'Hunger Games 12 Days of Christmas'. Today is our day to host the giveaway, and thanks to Lionsgate, we have some fun prizes for you to win!
We'll choose 5 winners who will each receive a Catching Fire book and Hunger Games DVD. To enter, just fill out the widget at the bottom of this post. A comment on this post is mandatory and will then unlock additional ways to enter – more entries, the better your odds!
The contest will last until December 23rd at 11:59PM ET and is only open to readers in the US. This is also a wonderful opportunity to help spread the holiday cheer by helping in the fight against hunger - as you'll see in the contest, there are multiple ways to enter, including through a donation to our charity partner, WhyHunger. Every little bit counts (even just $1)!

In addition, some new winter-themed stories have been added to The Hunger Games Adventures in the 12 Days of Questmas, and we have an exclusive gift to pass along to our readers! Use this link to open your present: http://bit.ly/THGA12-Hob
We'll update this list of the 12 fansites hosting the 'Hunger Games 12 Days of Christmas' throughout the month so that you can enter all of the contests AND get your exclusive Hunger Games Adventures gifts.
Also, as a reminder, don't forget you can catch
The Hunger Games
during it's TV world premiere on
EPIX on January 1st
!