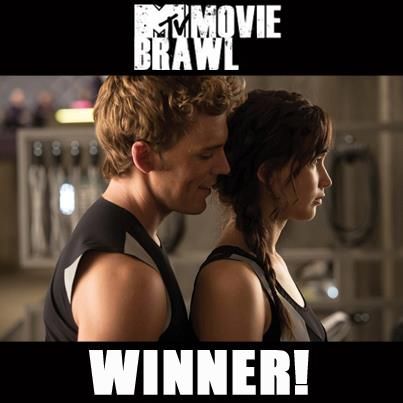 We did it! Catching Fire came out the clear winner in the final round of MTV's Movie Brawl. A staggering ten million votes were cast by the Hunger Games fandom to defeat City of Bones.
Sam Claflin, one of the newest cast members to join the series, shared his excitement about the Movie Brawl victory exclusively to MTV News. "I'm so happy and proud to say I'm a part of 'The Hunger Games: Catching Fire,' " he said. "Just want to say a big thank you to all the fans worldwide for voting. I'm thrilled to know they are just as excited as I am for the next chapter." …

Once the second consecutive trip to the finals was confirmed for "The Hunger Games" franchise, that's when the real battle began. In a tournament that notched 10 million votes, the results pointed to a clear, 100,000-vote win for "Catching Fire" over "The Mortal Instruments." The strong showing from the Shadowhunters proved that the YA adaptation is a force to be reckoned with.
We knew the fans could pull this one out – great job everyone!