As 2012 came to a close, there were quite a few additional "best-of lists" The Hunger Games landed on.
The Daily Beast picked Katniss and Peeta as one of "2012′s Best On-Screen Kisses".
Was it real? Was it fake? How does Katniss really feel about Peeta? And what about Gale?! The Hunger Games featured a pseudo-romance (or was it?) between Katniss (Jennifer Lawrence) and Peeta (Josh Hutcherson), the tributes from District 12 who are forced to fight to the death in The Hunger Games. The two pretend to be star-crossed lovers to attract sympathy (and thus sponsors' gifts in the arena, crucial to survival), but the line between fiction and reality begins to blur—especially after this kiss.
Film School Rejects placed The Hunger Games soundtrack at #9 on their list of "The 12 Best Movie Soundtracks and Scores of 2012″.
The Hunger Games takes place in a post-apocalyptic world where children are selected to fight in a battle to the death while the rest of the world watches on. This dark premise was accompanied by an impressive list of musicians who helped create the soundscape of this desolate world through stripped down songs that mirrored the stark world of Hunger Games' heroine, Katniss Everdeen (Jennifer Lawrence.) The Hunger Games may get filed under "kid fare" thanks to its Young Adult fiction roots, but with a soundtrack full of sophisticated songs from Arcade Fire, The Civil Wars, and Glen Hansard, all produced by the legendary T Bone Burnett, the music is anything but child's play.
The Hunger Games was 10th on the list of most viewed Wikipedia articles of 2012, garnering 18,431,626 views. (Via NBC News)
And now we have Catching Fire to look forward to in 2013. The much anticipated movie is already making some lists of its own! Check it out after the jump.
HitFix has Catching Fire at #2 on their list of the "25 Most Anticipated Movies of 2013″.
The first film set a tone for the series, but 'Catching Fire' is going to determine whether or not the audience was truly engaged by the first movie. Francis Lawrence has a very different visual sense than Gary Ross, so this may feel like a fairly different film. Unlike traditional sequels, these movies have to move the story forward significantly every time, and we've got to see Katniss Everdeen (Lawrence) move from player to rebel during this one as the gamesmanship between her and President Snow (Sutherland) escalates. It will also be interesting to see what happens with Hemsworth moving to center stage this time, since he spent most of the first film on the sidelines.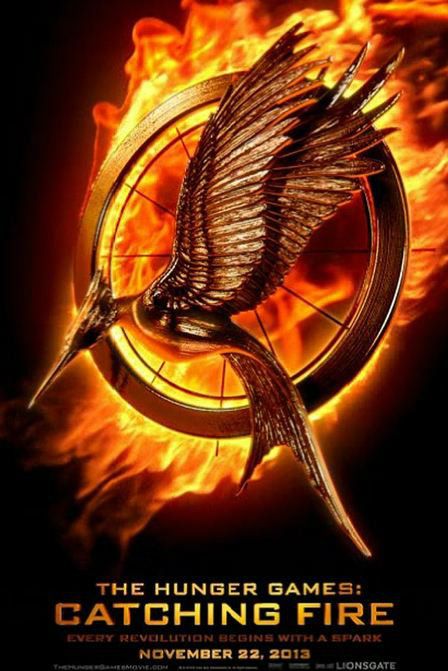 The motion poster released for Catching Fire comes in at #9 on Collider's list of the "Top 10 Movie Posters of 2012″.
The Dark Knight Rises has the benefit of decades worth of familiarity with the Batman symbol, making it easily recognizable to millions.  The Hunger Games is a relatively new phenomenon, but one that is attempting to gain notoriety by pinning their hopes on the Mockingjay symbol (and sometimes an actual pin, as was seen as a recent Comic-Con).  Plus, who doesn't love a good motion poster?
Lastly, you can have a say in MTV's poll for "Which 2013 Literary Movie Excites You Most?". Vote for Catching Fire here.