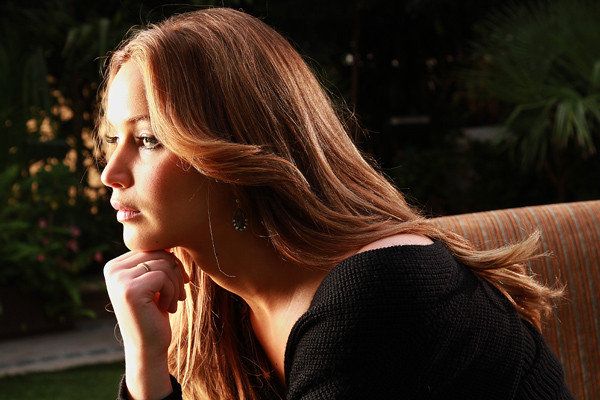 The Los Angeles Times sat down with Jennifer Lawrence during promotion for Silver Linings Playbook and she spoke about the image Hollywood projects to young girls, her experience making Silver Linings Playbook and how her parents' support means the world to her.
"With Katniss, I never meant to make a big deal about it. It was just important she was strong and a warrior instead of being wasted away, especially when, without a doubt, she's going to be a role model for a lot of young girls. I thought it would be better for them to say, 'I could look like Katniss' rather than 'I'll never be able to look like that if I keep eating.'" …

Lawrence calls her collaboration with Russell "the best experience" of her life, an assessment supported by the way her parents reacted to the movie when they saw it at the Toronto International Film Festival in September. Lawrence found them after the movie ended and immediately noticed that her dad, a man she has never seen cry, was "covered in tears." So, according to her father, at least, Lawrence proceded to yell in front of everyone, "Dad, you're crying!" — a "betrayal" he still gives her grief for.

"Seeing that, especially knowing how much my parents gave up for me, meant so much," Lawrence says. "They gave up their friends, their assets so I could act. So their loving what I do takes away some of the guilt, I guess. As much as it's nice to be acknowledged by your peers, your parents' approval means the most. It'll probably always be that way."
Jennifer also talks about her character in Silver Linings Playbook and more about working with director, David O' Russell. Read the entire interview at the Los Angeles Times and see another photo of Jennifer from this shoot here.