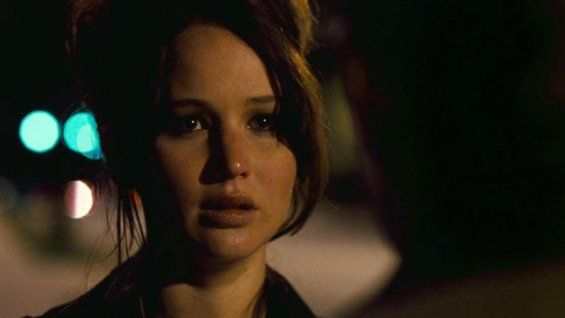 Yesterday The Hollywood Reporter shared Jennifer Lawrence's reaction to receiving an Oscar nomination for Best Actress for her role in Silver Linings Playbook. Thanks to a plethora of interviews Jennifer participated in since then, we have even more comments from the actress about her Oscar nomination and this weekend's Golden Globe awards ceremony (where she's nominated for Best Actress in a Comedy/Musical).
On Sunday's Golden Globe Awards: "I've thought about how much liquor I'm going to consume on Sunday. Last year, at the Globes, I couldn't drink. I was like, oh, my God. Hopefully, it will be better this year now that I can drink."
I have not picked a dress yet" for Globes, she says, much less Oscars.
On how she's celebrating her Oscar nomination: "Well, I've had four cups of coffee this morning," she said, not quite sounding awake. "You're always really excited when these things happen. You always feel like you should be doing something. But you know, the dog still needs to go out."
On her Silver Linings Playbook costars receiving Oscar nominations: Lawrence is talking about the fact that not only did she get nominated, but someone from Silver Linings Playbook is nominated in each acting category. "When you're hoping for something and you're praying and we're all getting so excited and then it's even better than you imagined it's unbelievable…. [The whole cast have] been texting," she said. "I just sent them a picture of Obama on a unicorn with a rainbow saying 'Congratulations.'"
Her official Oscar reaction statement nomination: "I'm so honored and grateful for this nomination and to be in the company of such talented actresses. Having the fortunate opportunity to work with David O. Russell was an extraordinary gift, and I am so thrilled for my fellow cast members Bradley Cooper, Robert De Niro and Jacki Weaver who are all nothing short of amazing. This was a labor of love that we all poured our hearts into and could not be more thankful to The Weinstein Company and Harvey Weinstein for their unyielding support of the film."