We just read the cover story from this week's Entertainment Weekly featuring Catching Fire, and wanted to share a few new things we learned (in addition to the details about which characters and scenes didn't make the cut)! We also love this behind-the-scenes shot of Jennifer Lawrence, Liam Hemsworth and Francis Lawrence from the issue.
Be sure to pick up the magazine when it is released on newsstands tomorrow to read the fantastic interviews in their entirety.
Jennifer Lawrence on her first conversation with Francis Lawrence: "He's really smart, and he has a very gentle way about him. He's really passionate about the book. It didn't seem like he was just excited to make a huge movie."
Jennifer on playing Katniss: Gary Ross told her Katniss is a hunter. "I didn't feel like an action star, I didn't feel like a superhero. I felt like a hunter. That helped keep it grounded in this reality of, she's good at this not because shes a trained killer but because she a 16-year-old girl who happens to be great with her senses."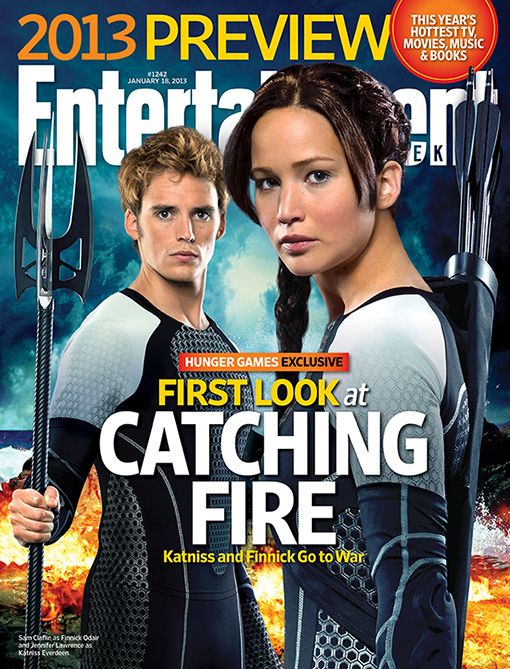 Jennifer on her favorite day of Catching Fire filming: "We were shooting on this beautiful beach, and there were sea turtles everywhere. In between takes Josh and Sam and I were running and jumping in the water. I was like, "I'm getting paid to do this?! This is awesome."
Sam Claflin on his Finnick audition: "Finnick is this tanned, green-eyed sex god. I'm thinking, 'I'm brunet, I have loads of stubble', and at the time I was by no means in shape. This guy walked in just after my audition who looked like Brad Pitt in Thelma & Louise. I thought, 'Yeah, I'm not going to get this.'"
Nina Jacobson on casting Sam Claflin: "Sometimes you get someone with the swagger but not the soulfulness, or the other way around. Sam had both. He is such a sweet, sweet fellow."
Francis Lawrence on creating a new vision: "I thought there were a lot of opportunities for the costumes, especially in the Capitol, to go crazy, to have fun, but in a very sophisticated way." Enter The Girl With the Dragon Tattoo costume designer Trish Summerville. Lawrence also wanted to tinker with the cinematography ("It doesn't always have to be desaturated and grey") and brought in a new visual-effects supervisor, Janek Sirrs (The Avengers).
Nina Jacobson on getting Philip Seymour Hoffman on board: "We went and saw him on Broadway, where he was doing Death of a Salesman. It took a lot of patience to get him to focus and read the book, because we didn't have a script yet. But we really wanted him because we wanted everybody to know that yes, it's a new director, but our standards are just as high and we're still aiming for Oscar-caliber actors."
Lastly, we finally have confirmation that Michael Arndt helped to finalize the script: "The first third of the book is a lot of zigzagging", says Jacobson. "We go on tour, we're at the Capitol, we're back home, then Katniss spends a lot time in her head thinking". Jacobson hired screenwriter Michael Arndt (Toy Story 3) to streamline the story and enliven its emotional core. "Michael turned in a first draft, and suddenly you could see it all", says Lawrence."