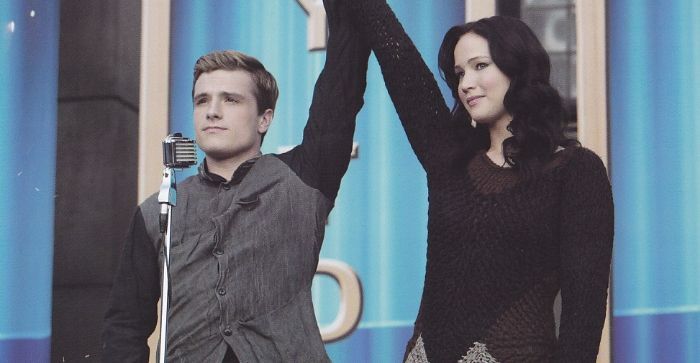 Catching Fire has officially surpassed The Hunger Games' total gross at the domestic box office! The Hunger Games brought in a total of $408,010,692 in the US and Canada during its theatrical run, and with Tuesday's just-released box office grosses, Catching Fire has now inched ahead with $408,372,775. (In mid-December, Catching Fire surpassed The Hunger Games' worldwide total thanks to increased box office earnings overseas.)
On Thursday, Catching Fire passed the $400 million milestone at the domestic box office. Forbes has a great take on this milestone and estimates that the movie will ultimately make around $430 million domestically.
When The Hunger Games: Catching Fire topped $400 million late last week, it became the first franchise in history to have the first two installments hit $400 million. Yes there is inflation to be accounted for, but Hunger Games did it without the 3D up-charge that has been so prevalent over the last four years, although it did have that IMAX advantage. I presumed that at least some of the audience who showed up for Hunger Games would pass on the second installment, having sampled it initially out of curiosity without the desire to make a return trip. I was wrong, or least I was reluctant to predict another massive domestic performance the second time around.

Catching Fire opened almost identically to the first film ($158m vs. $152m) and now will end up earning around $430m domestic, or just a bit more than the $408m domestic gross of the first one. The consistency makes it not implausible that all four chapters of the series will end up in the $400m range. If that happens, it will have the largest per-installment average in franchise film history, ahead of Chris Nolan's Batman films which average $390m per installment. When it passes Iron Man 3, it will be the first unquestionably female-centric star vehicle to top the annual domestic box office since The Sound of Music in 1965.
Less than $1 million to go before Catching Fire overtakes Iron Man 3 ($409 million) to claim the title of highest grossing movie of 2013. Should happen today!