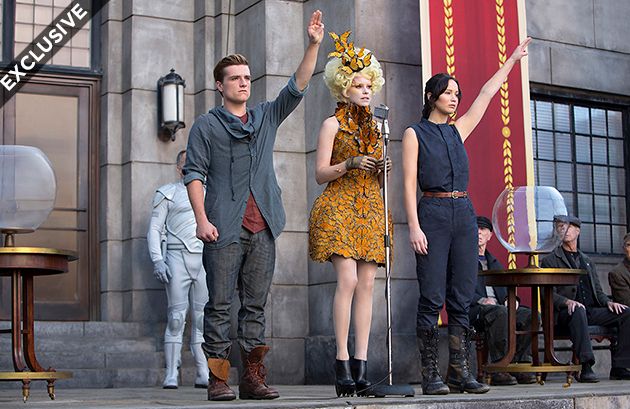 As part of Entertainment Weekly's annual "Nominated for Nothing" series – which looks at the year's non-nominees – they're delving into why Catching Fire was overlooked for an Academy Award (even though it was on lists for Best Original Song, Score and Makeup & Hairstyling). Much like they're take on The Hunger Games, EW is placing the blame on the Academy's avoidance of YA films.
Why it Wasn't Nominated: Much like the original, The Hunger Games: Catching Fire never stood a chance. While book adaptations have a shot at Oscar glory, YA books are considered too juvenile, no matter how well-reviewed or beloved. Exhibit A: Harry Potter (which did receive technical nominations, but never won). For all the hand-wringing about how to attract young viewers to the telecast, the Academy is rather resolute about not considering films where the main demo skews young. Hunger Games is also easily dismissed by Academy voters as an action/adventure franchise movie, which they are loathe to congratulate — Lord of the Rings is the exception that proves the rule.

But while the Best Picture race is tight, it's ridiculous Catching Fire wasn't nominated in some category. Quick facts: The Lone Ranger got a nomination (for Best Visual Effects). The Hobbit: The Desolation of Smaug got three! If we can congratulate Depp on a train, we can throw a nomination to Hunger Games for that Arena.

More specifically, the supporting characters were much better this time around. Both Stanley Tucci and Elizabeth Banks portrayed the same characters in the first installment, but in the second film they were responsible for some of the best moments of the story. Tucci upped the "performing" aspect of his host that doubled as giving us biting social commentary on reality television; Banks toned her performance down to allow viewers to really feel for Effie.
Head over to EW.com to read why they think history will remember Catching Fire better than Philomena. While we completely understand Catching Fire not picking up a Best Picture or major acting nomination due to it's YA categorization, we're still bummed it was overlooked in many of the technical categories where the film really excelled.