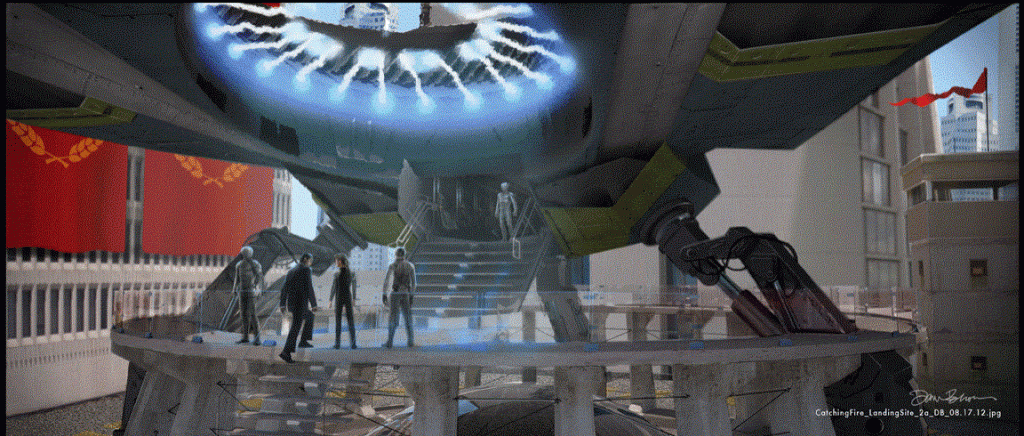 Originally brought into the Hunger Games franchise by Gary Ross, Phil Messina has served as the production designer for each film in the series, including Mockingjay Part 1 and Part 2 which he's currently filming. Phil talked in detail with Trevor Hogg at Flickering Myth about working on the films.
On using the books to help build The Hunger Games world
"Suzanne [Collins] was part of the process the entire time so there wasn't a dichotomy between script and book.  When questions came up in our work about how things were organized or what things should look it we often went back to the book.  In fact we still do.  I'm working on Mockingjay 1 [2014] and 2 [2015]right now so at the end of this I've would have done all four Hunger Games films.  I have dog-eared pages of all three books in my office that we're constantly referring back to try to keep it straight."
On the change of directors
"When I found out about the second film, Gary was going to direct it and he was the one who asked me back … When he decided not to do the film it was an odd couple of weeks where Producer Nina Jacobson [Diary of a Wimpy Kid] was persuasive in saying, 'We want the continuity since we're bringing in an unknown entity at this point.' They hadn't hired a director yet.  I was caught by surprised and they were all reacting in real time.  I was literary reading the movie headlines a couple times a day to see who was in the lead to do our film.  I had not worked with Francis [Lawrence] before nor had any contact with him.  I took our first meeting as if I was interviewing for the job.  If Francis wanted to go in a different direction or it wasn't going to work out personality wise I would have bowed out.  We had a wonderful connection and he has become a dear friend of mine."
On maintaining continuity with different directors 
They are chapters of a trilogy that graphically change scope and direction so there is continuity from one to another but each one keeps on opening up a new set of circumstances. On Mockingjay we're starting District 13 which did not exist except for two shots in Catching Fire.  There are still ripples of the work I did in the first film with Gary and certainly with Catching Fire but now we're on the streets of the capital where we've never been before.  We have this civil war happening in the capital.  It has natural breaks.  It's not like doing the same material with a different person."
On creating the Capitol infrastructure for Mockingjay
In Catching Fire we have more of the capital shown than in Hunger Games but in Mockingjay especially in the second film it is like being on the streets of the capital.  We're using some locations in Europe, especially in Paris and Berlin.   We tried to use places that felt architecturally relevant to our film and also felt real.  One thing that Francis wanted was to be on real streets; he didn't want to be on the back lot with fake buildings so we are in a lot of real locations and I find that exciting."
More of Phil's interview – including using locations in NC vs Atlanta, interpreting the set for each district, determining the look of the weapons, building the Quarter Quell arena, using CGI, working with illustrators and more – is available at Flickering Myth. You can also see more Catching Fire concept art DawnBrown.net.