Jennifer Lawrence won Best Actress for The Hunger Games: Catching Fire in ScreenCrush's 2nd Annual Fan Choice Awards.  Screen Crush holds an online poll in which fans can vote for their favorites.  Jennifer blew away the competition with 41.68% of the votes.  The next closest actress was Sandra Bullock, obtaining 23.17% of the votes, for her performance Gravity.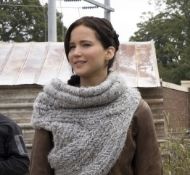 The fans have spoken! The polls for ScreenCrush's 2nd Annual Fan Choice Awards are officially closed, and when it comes to Best Actress of 2013, none can stand against the Girl on Fire herself, Jennifer Lawrence in 'The Hunger Games: Catching Fire.'

Sandra Bullock ('Gravity'), Amy Adams ('American Hustle'), Brie Larson ('Short Term 12′), Scarlett Johansson ('Her') and Cate Blanchett ('Blue Jasmine') were all nominated for the category, though none can argue over the fan power behind the 'Hunger Games' franchise.

The nominees for the 2nd Annual Fan Choice Awards were curated by ScreenCrush's trusty editors, and the winners were chosen by movie and TV fans in a lengthy voting period that began on January 6 and finished February 11. Fans were allowed to vote up to once per hour per category.
Update: The results of the PopCrush Fan Choice Awards have also been released, and not only did Jennifer win Best Actress, but Josh Hutcherson won Best Actor AND Catching Fire won Best Movie
See the full results at PopCrush. Thanks to our reader Lisa for the tip!